Project Type:
Artist in the Community, Youth Engagement
Dates:

Dates:
Phase 1: Sept–Nov 2018, Phase 2: Feb-Dec 2020, Phase 3: Sept - Jan 2021
Participant Group:
Young people from Letterkenny and Strathfoyle (aged 12–15)Mary Branley
Artists:
Mary Branley
Partners:
Donegal County Library Service; Libraries NI
Funders:
Reconciliation Fund (Department of Foreign Affairs
Young Writers
In our contemporary society, the realities and lived experiences of young people often go unnoticed or are misrepresented within our mainstream culture.
This project offers a developmental framework for two groups of young people from Derry and Donegal to develop authentic and meaningful stories and youth narratives through poetry, prose and spoken word. Through a series of workshops with writer Mary Branley, young people are encouraged to develop their individual voices in response to their cultural landscape and as a reflection of their own ideas and interests.
Hi I am a person_blkWhite-1200X800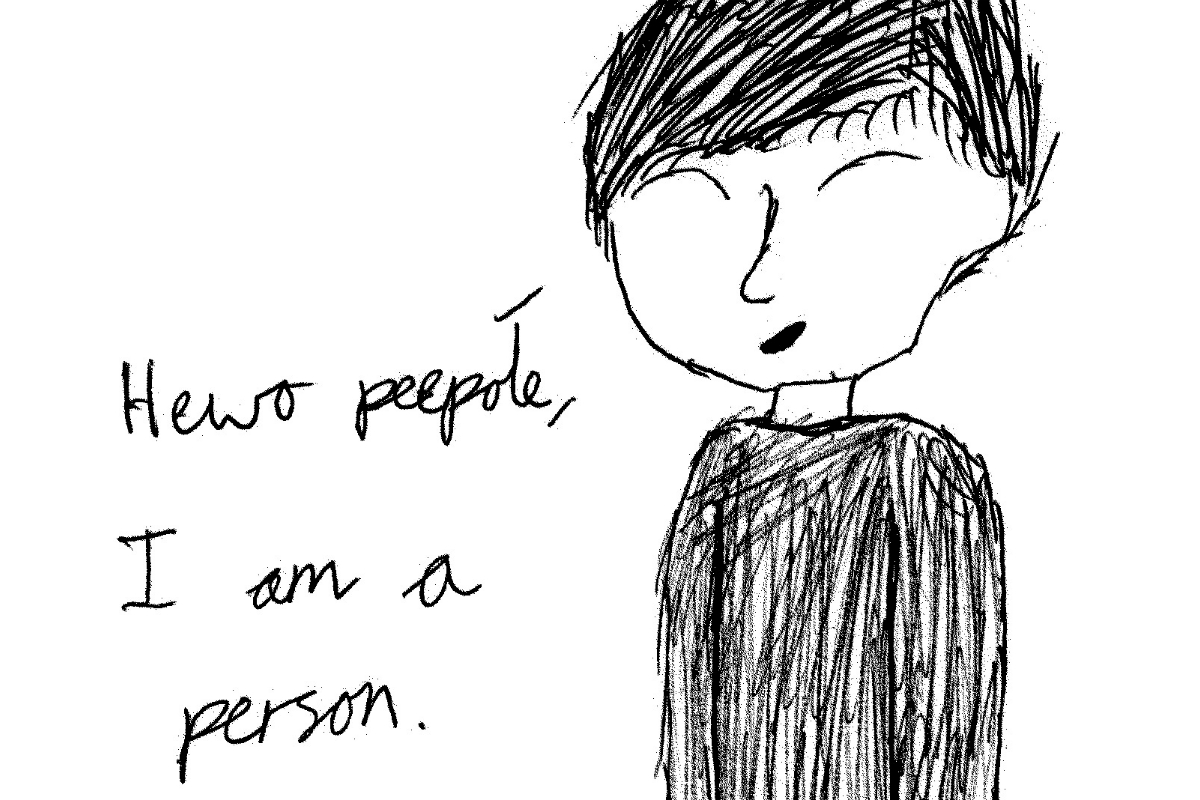 IMG_1028_1200X800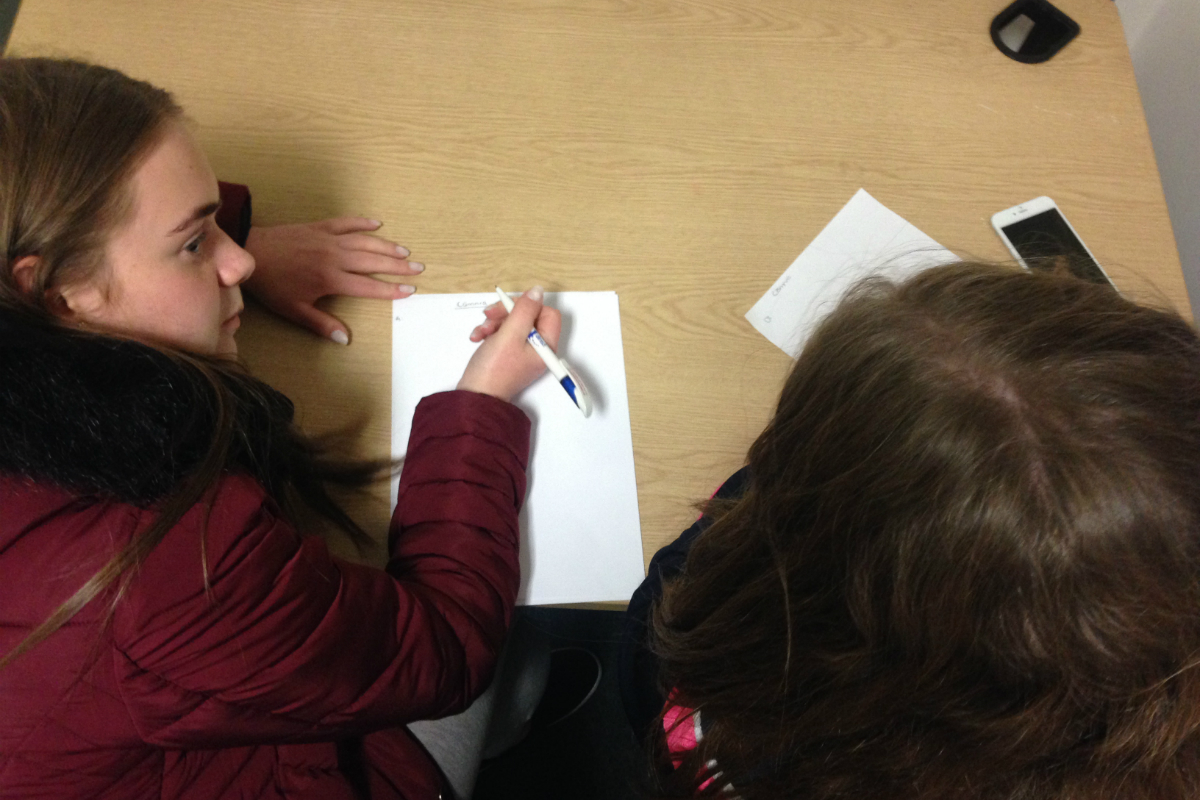 Smiling Girl_1200X800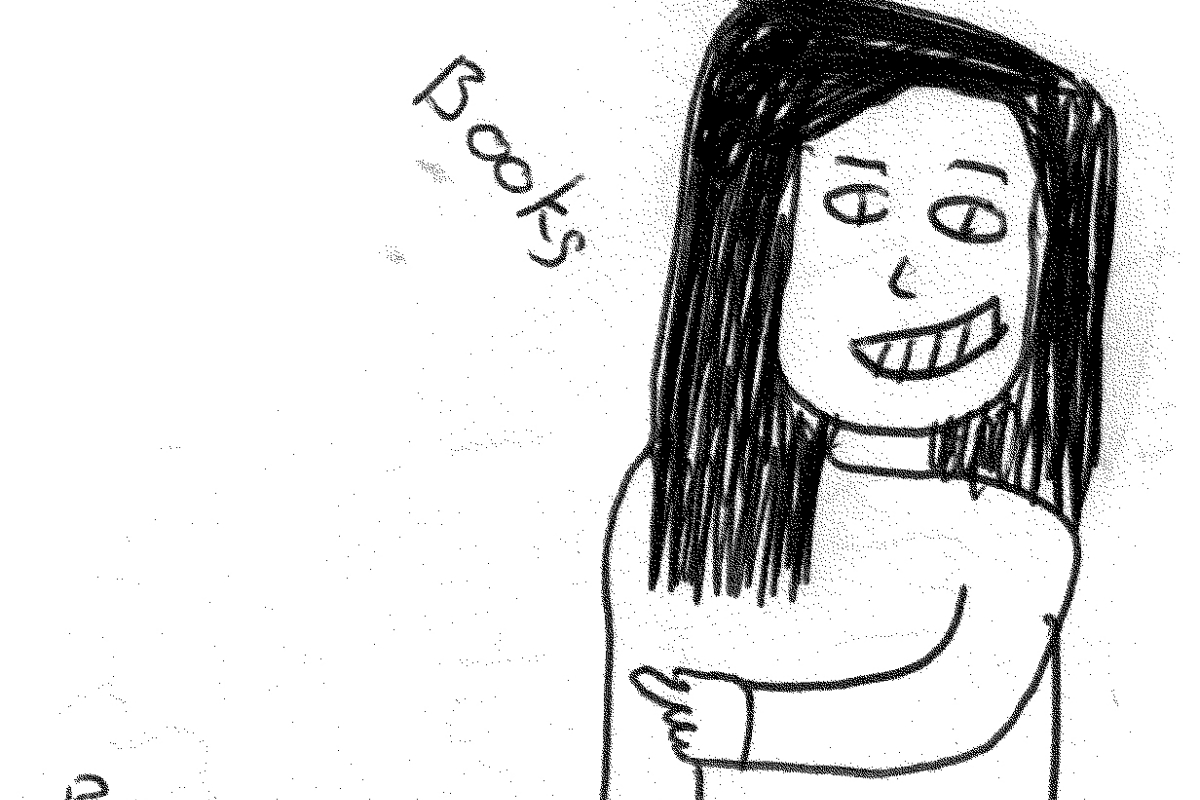 Spoken Word Performance & Launch Event
Participants from the Young Writers Project in November 2018. Kids' Own in collaboration with Donegal County Council Library Service and Libraries NI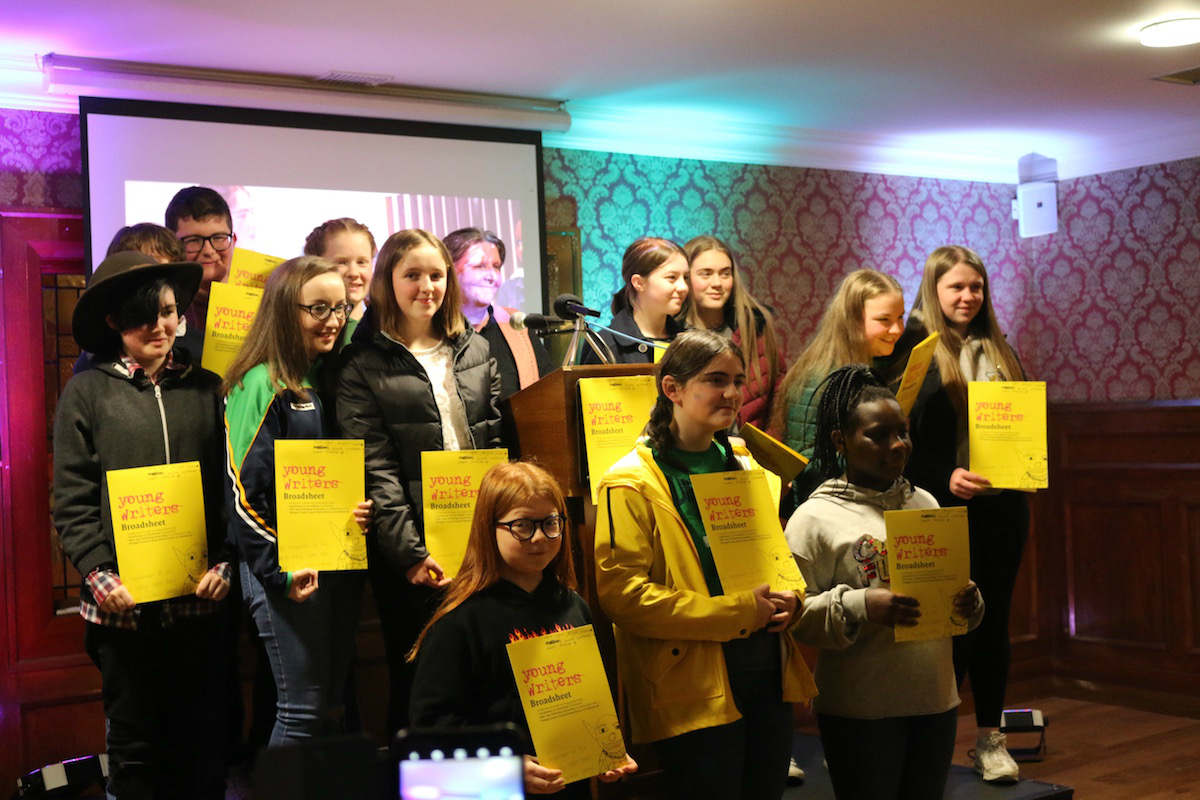 Process Image
Participant during a workshop at Strathfoyle Library with writer Mary Branley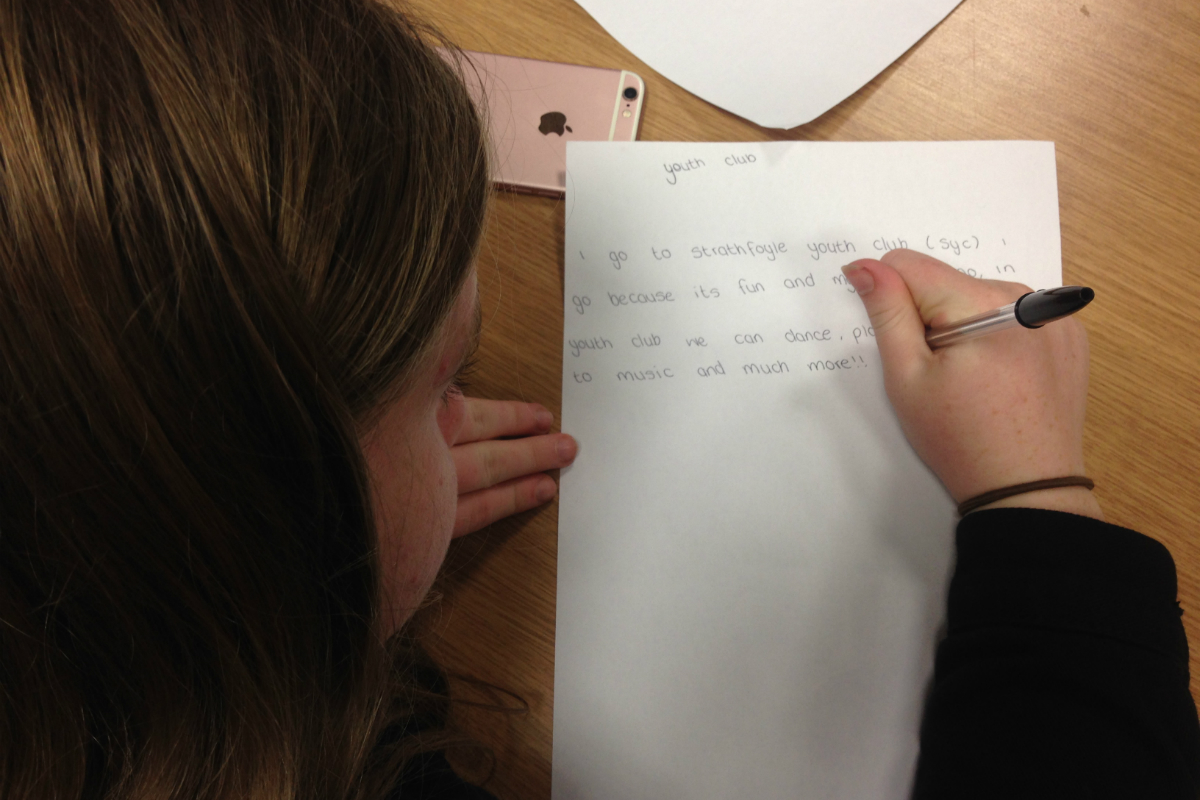 As part of the first phase of the project in 2018, Kids' Own published a broadsheet containing a selection of the young people's work, which draws on strong social concerns as well as imagined narratives that sometimes delve into science fiction or futuristic possibilities.
This phase culminated in a special performance and launch event in November 2018, at which both groups of young people came together to share their work with a public audience.
Read more about the 2018 launch event.
YoundWriters
Young Writers Group - Kids Own Publishing - Teen boy writing in notebook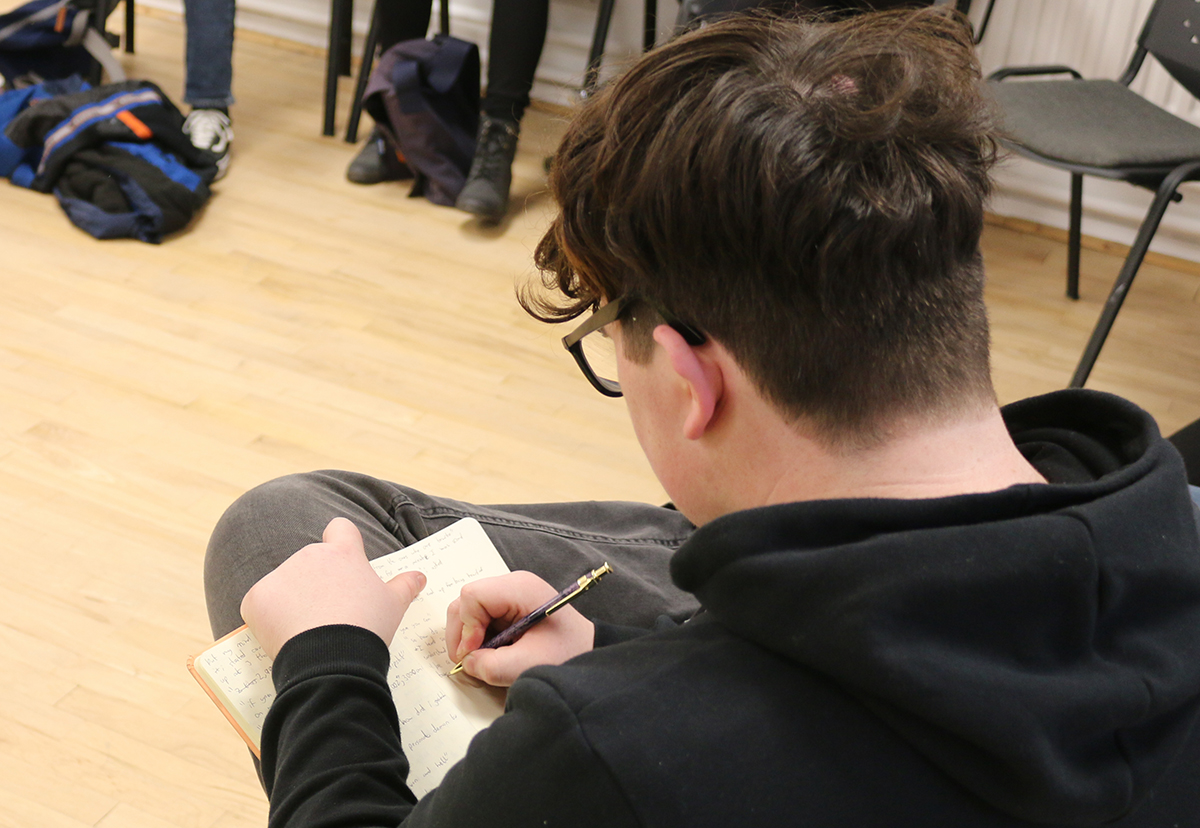 The first meeting
Young Writers meet up - Kids Own Publishing project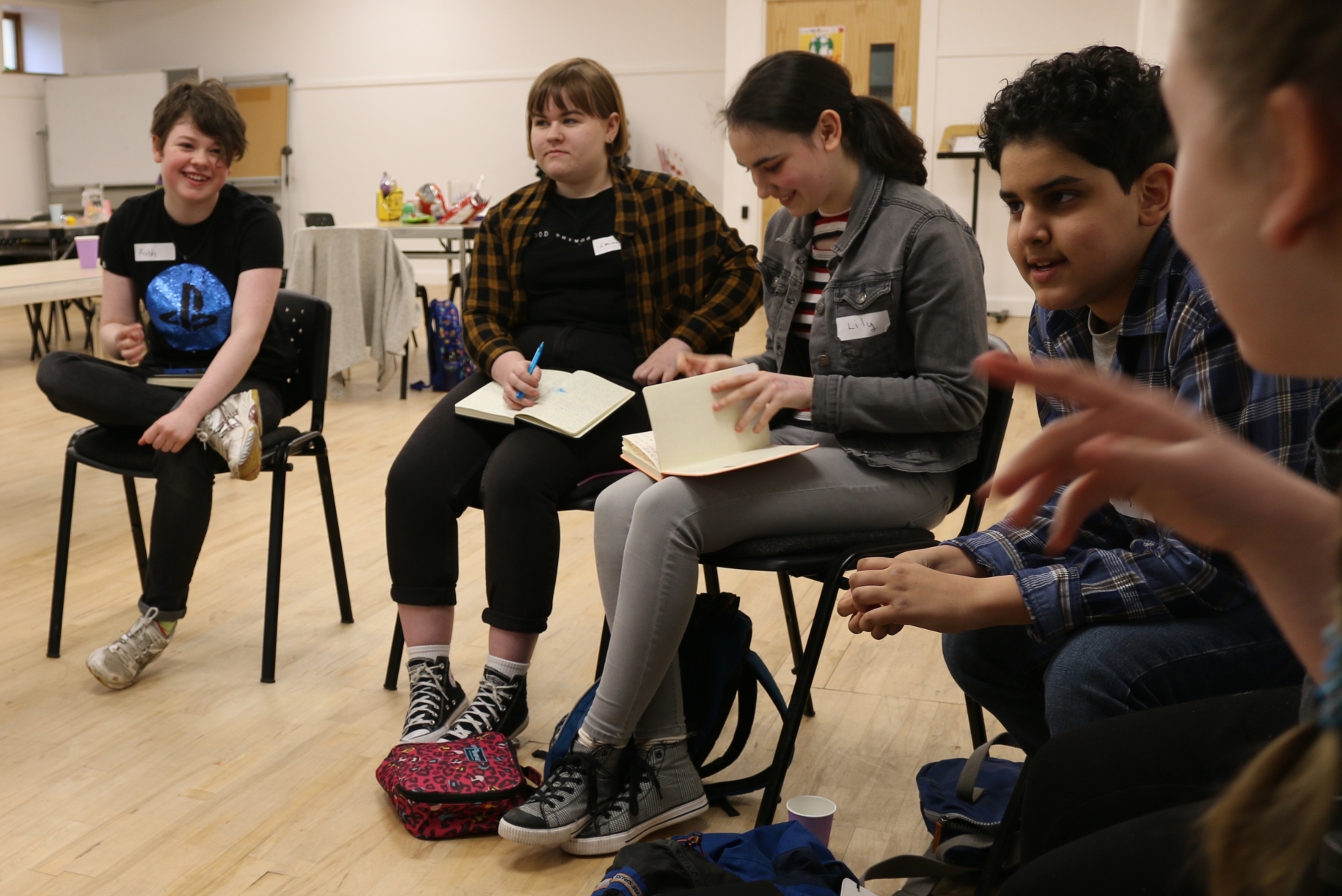 YoungWriters1
Young Writers group - Kids Own Publishing - Two teen girls writing at desk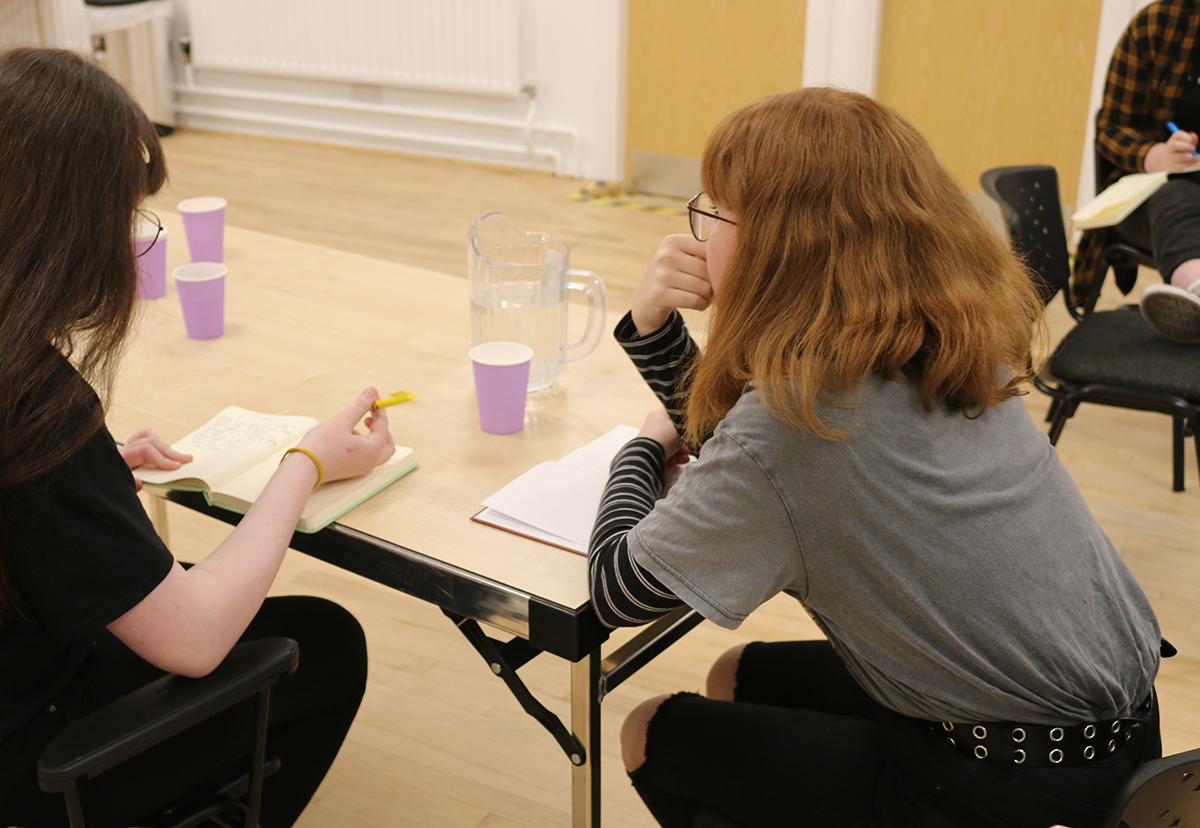 The second phase of the project started in February 2020, with a new group of Young Writers from the area of Letterkenny and Derry/Londonderry, recruited with the help of our partner Londonderry/Derry Central Library/Libraries NI. 
The groups met separately in Londonderry/Derry Central Library and Letterkenny Library, but have connected with each other via recorded messages through mentor Mary Branley using our Young Writers online forum. One of the highlights so far was when our young writers group in Letterkenny took part in a online transatlantic workshop with Young Chicago Authors in summer 2020. Here is a video made by Donegal Youth Service which documents that workshop.
In March 2021, we were delighted to launch a new publication On the Brink, a collection of poetry and prose by the young authors. It is available for free from our online bookshop. Read more about the On the Brink launch here.
Brink-cover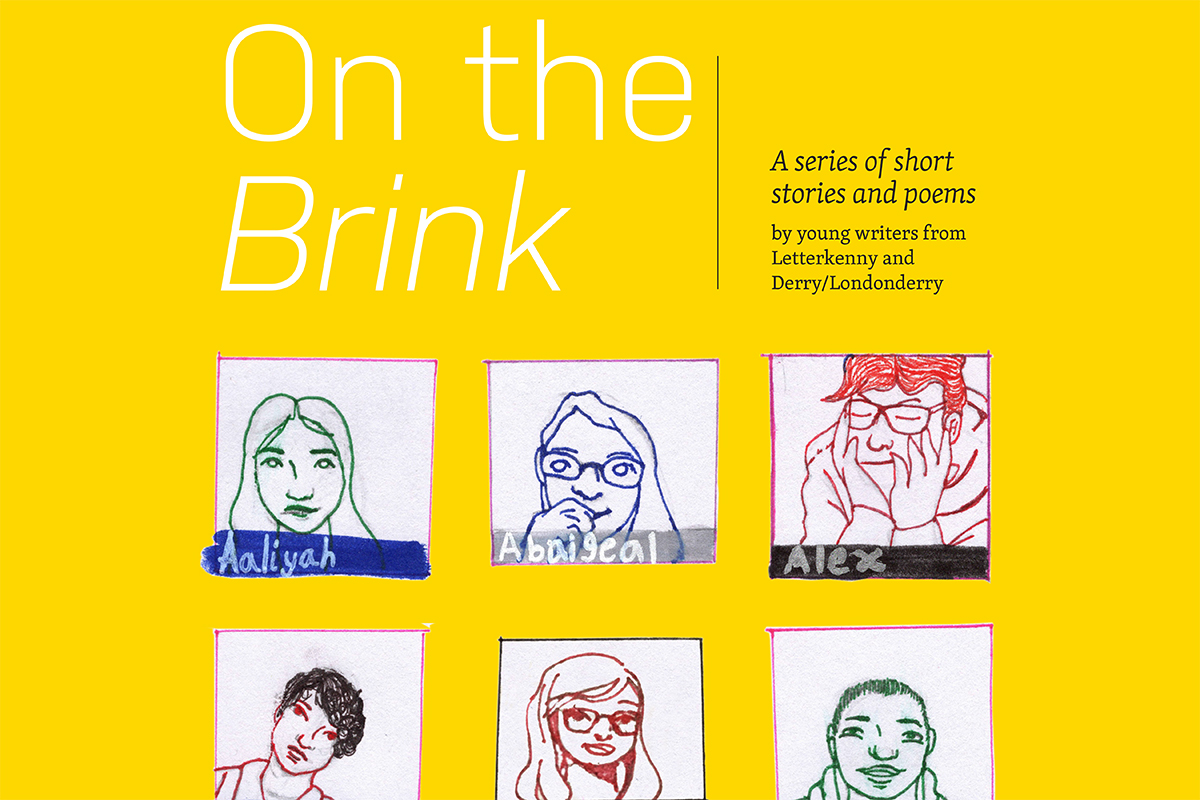 Short story in On The Brink
Young Writers publication with Kids' Own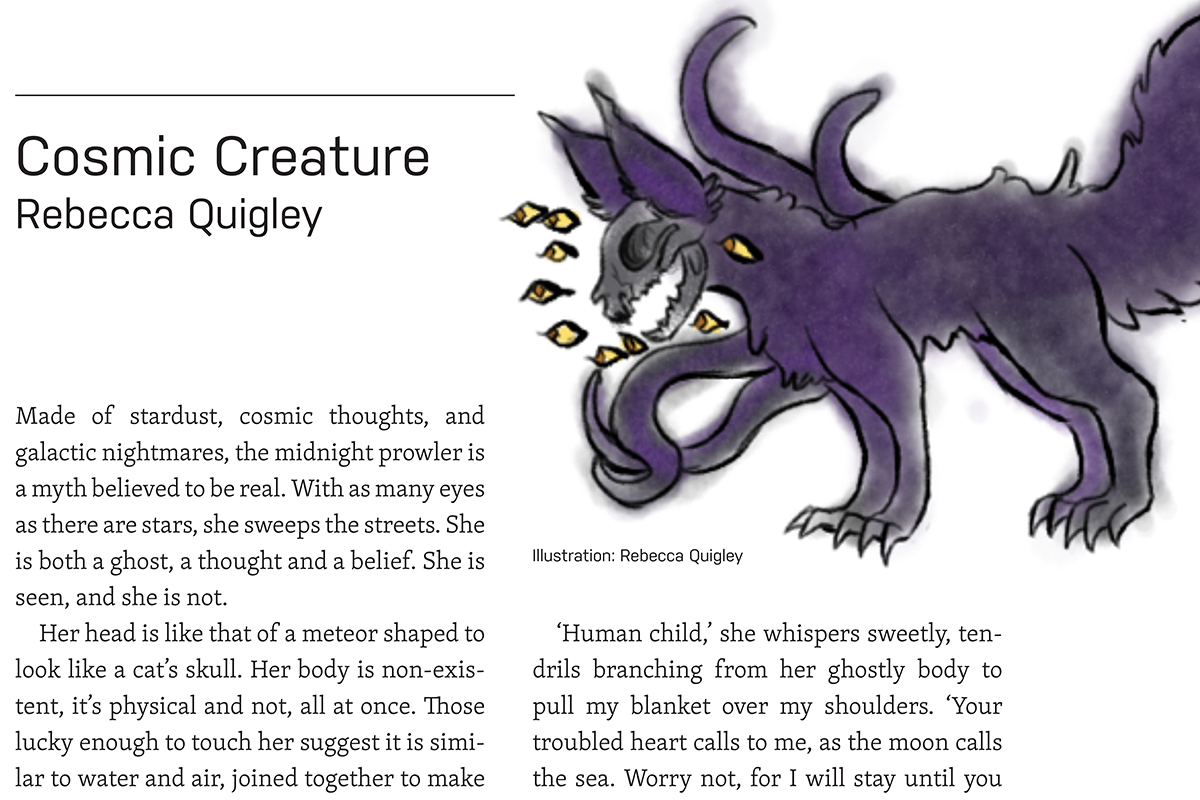 Image from On The Brink
Young Writers publication with Kids' Own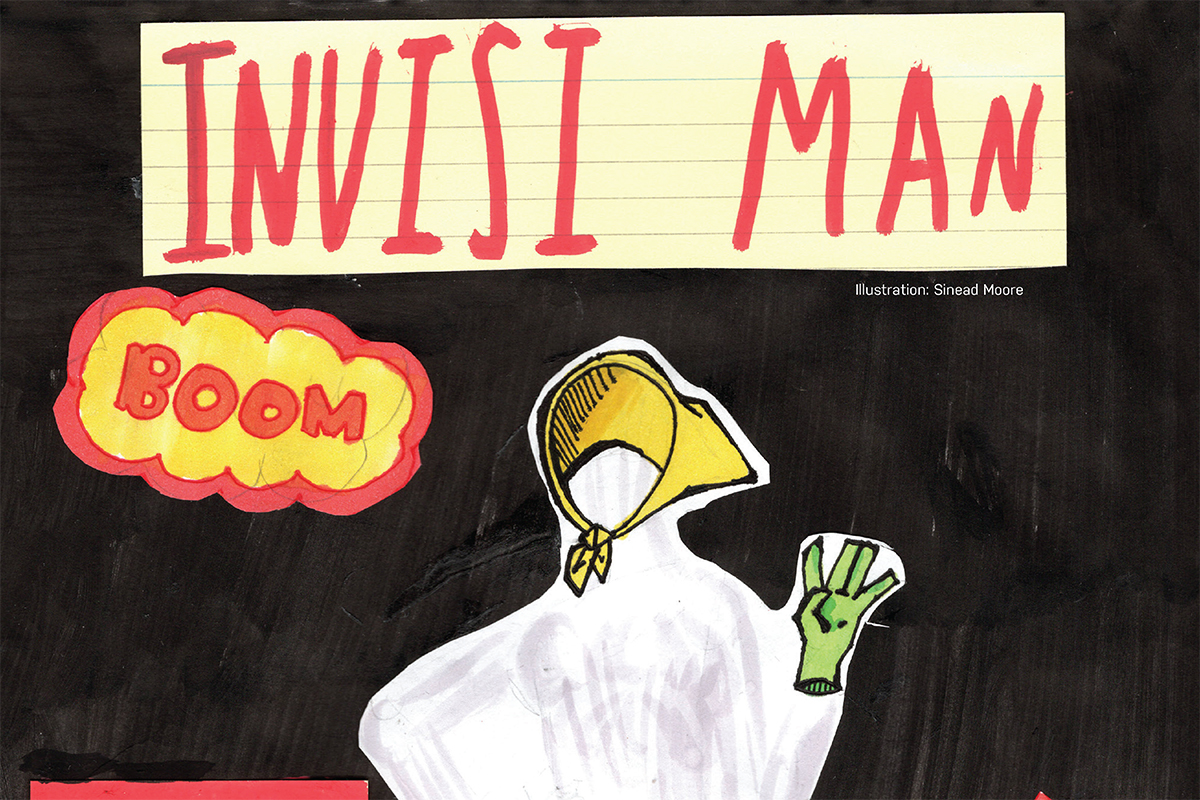 Short story in On The Brink
Young Writers publication with Kids' Own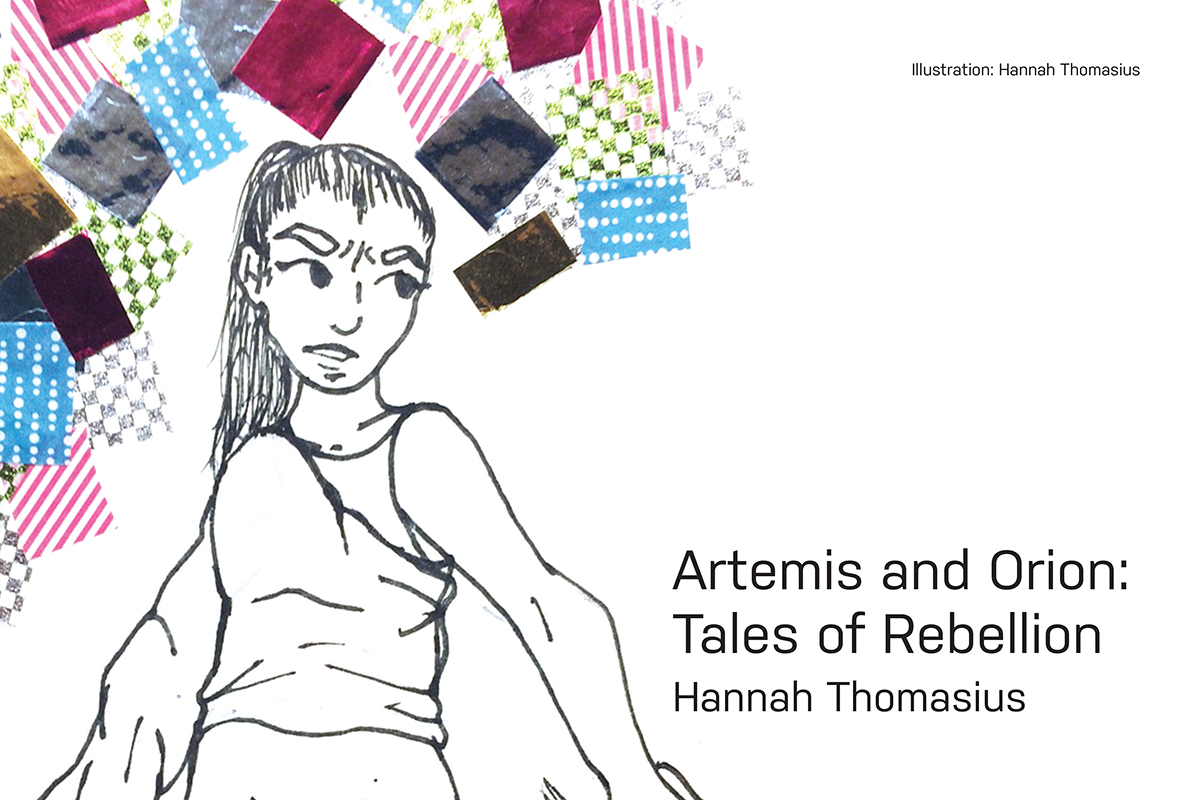 The third phase of the project started in Autumn 2021. The writers had a busy summer leading up to this with 3 creative days online with amazing writers and artists. In July, the group worked with London-based poet and visual artist Ella Frears, Sligo-based writer Louise Kennedy, and actor, theatre-maker and writer, Bob Kelly, who is also Sligo-based. Read more about these creative workshops here.
Throughout the Autumn, they worked and collaborated with each other online, culimating in an online evening of poetry and prose in January 2022. Susanna Galbraith, poet and editor of Abridged Magazine, hosted the evening. She was such a wonderful warm host, asking the group many interesting questions around their inspiration and methods of writing. Read more about their Poetry & Prose evening here. 
and chat with Susanna Galbraith, poet and editor of Abridged Magazine, on creativity and youth culture.
Book your ticket here: https://www.eventbrite.ie/e/poetry-prose-tickets-239915532817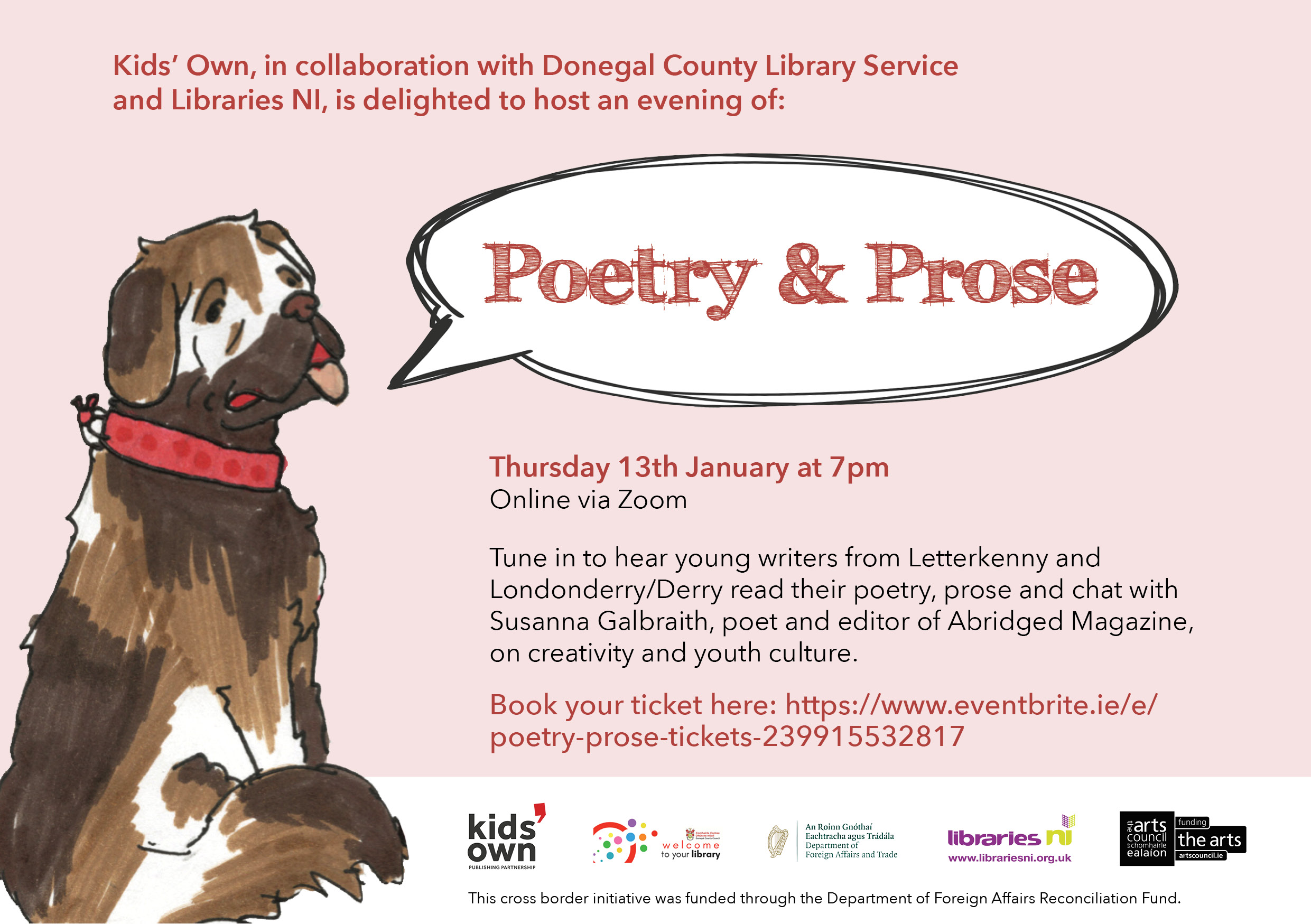 Ella Frears creative writing workshop with young people Kids Own
Online creative writing workshop with Ella Frears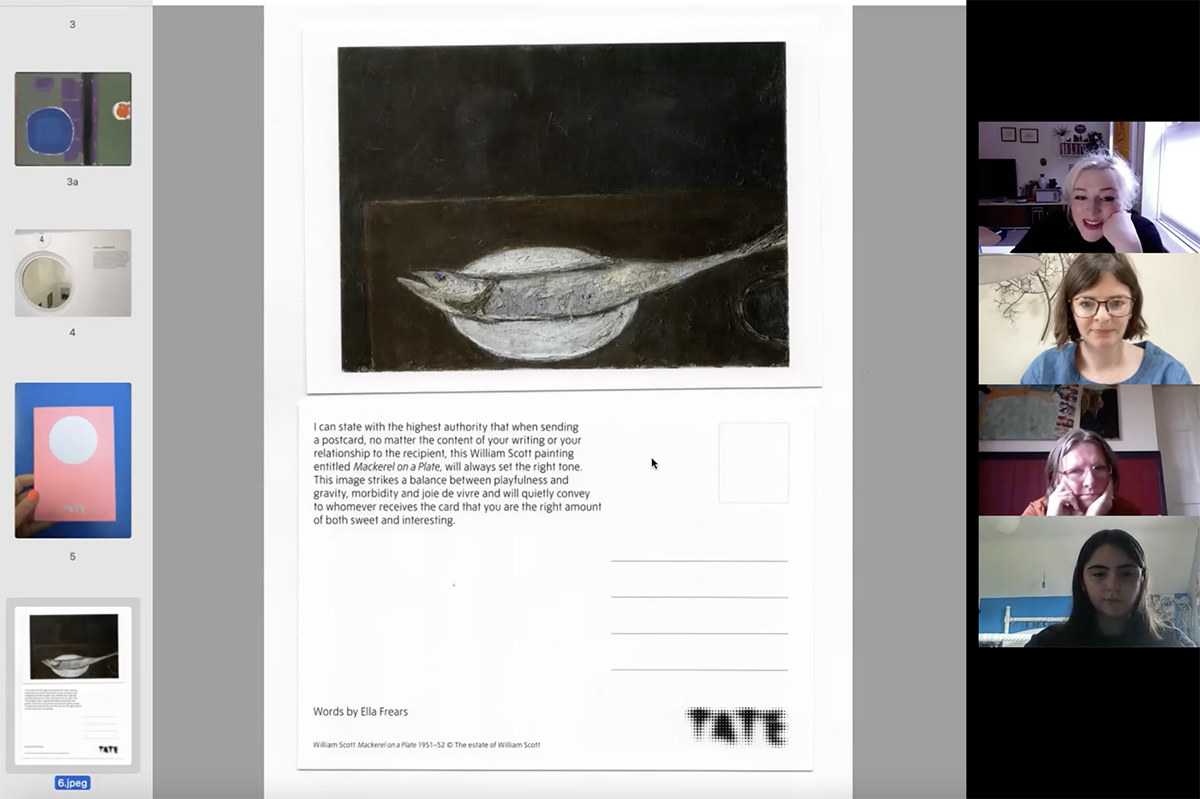 May 2nd 2023
We have so much to update you all on our Young Writers Project. Thank you for following along with us as our young writers have developed and nurtured their writing skills.
We began the next phase of the project in 2020, inviting back our writers from Letterkenny, and with new additions from County Derry for a cross-border project. Mentored by our associate writer Mary Branley, the young writers met every week in their respective groups exploring and developing their individual creative voices, reading and listening to each other's work and first drafts.
The groups came together over a series of workshops, both virtually and in-person to share their writings and as a result Buoyant: An Anthology of  new voices from Donegal and Derry-Londonderry was born. Buoyant is collection of short stories that reflect the joy and optimism of the group.
The launch of Buoyant was held on 25th March at Verbal Arts Centre in Londonderry, the day long event was great fun with workshops and presentations and was hosted by Mary alongside Kid's Own.  See more on the launch of Buoyant here 
Buoyant Launch 5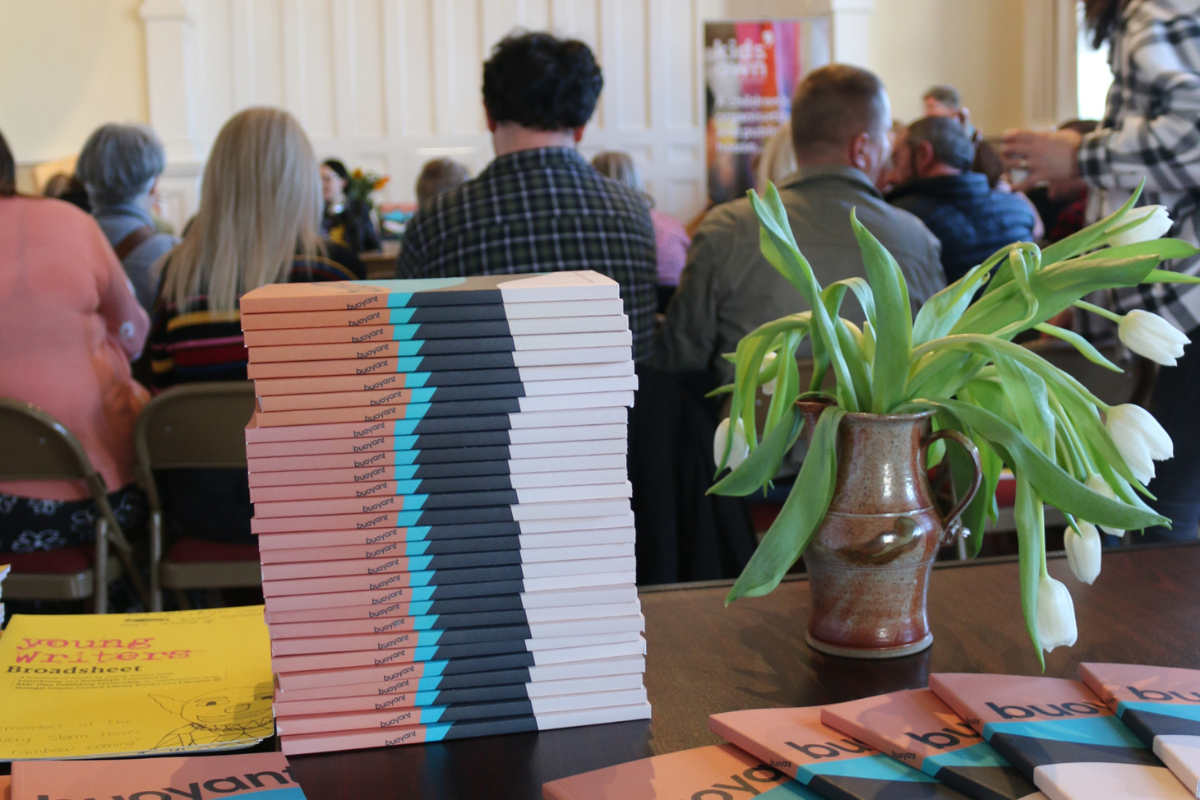 IMG_6193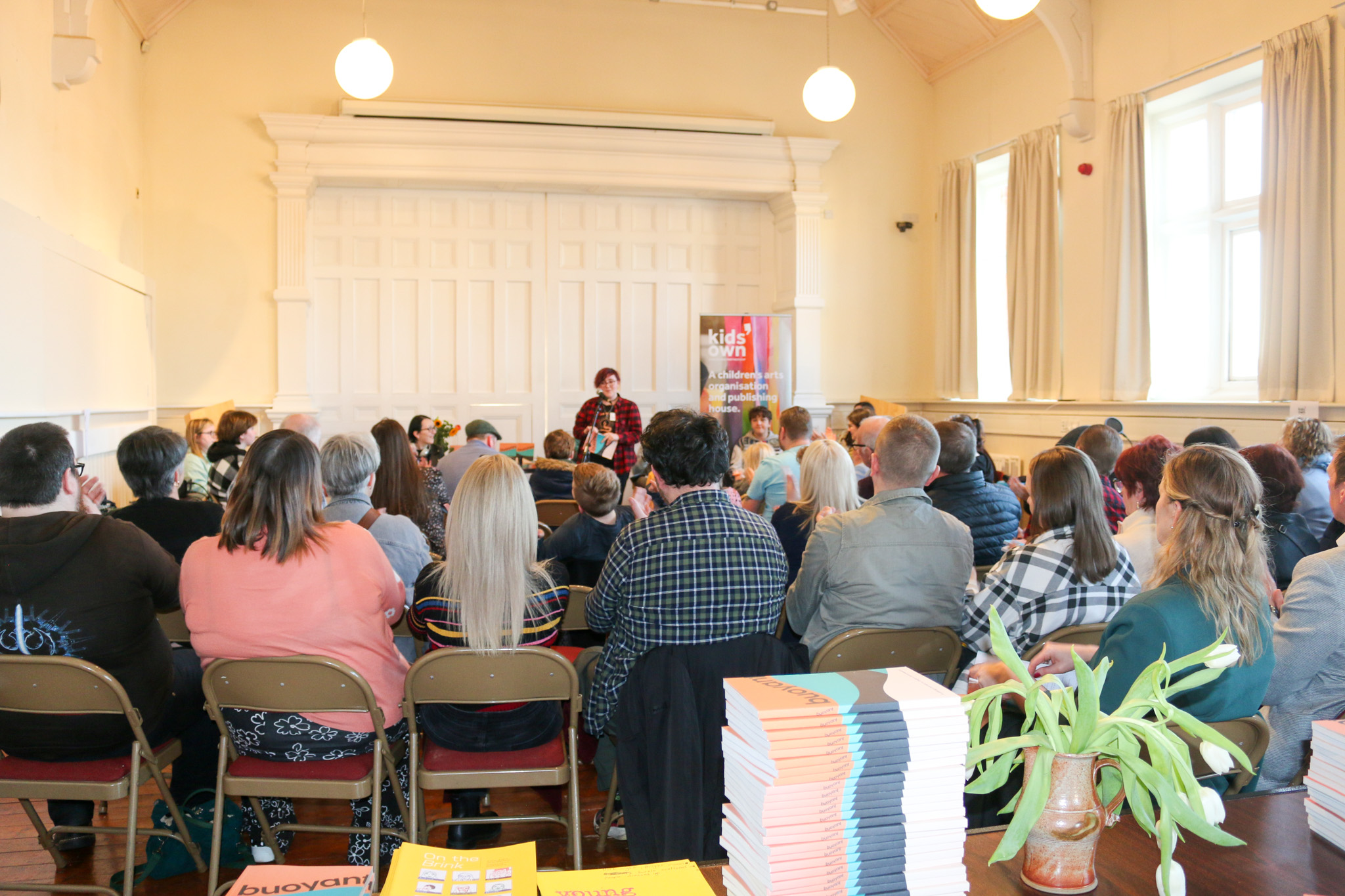 IMG_6173
We are also so proud of the Young Writers Podcast we have recently produced.  Five of our young writers from Letterkenny, Derry-Londonderry and Belfast met in Derry City Library to record their original writings. Their readings were edited into a series of podcasts created by Kids' Own to showcase the creativity of teenagers.
Mary Branley and our former CEO Jo Holmwood introduce the podcasts with insightful discussions about the young writers and their work. Our first series consists of five episodes, each as engaging and entertaining as the next. See more and listen to the podcasts here 
Podcast_1_Aaliyah

Podcast_2_Aoibh

Podcast_3_Hannah.png
Young Writers Podcast Episode Three

Podcast_4_Lauren.png

Podcast_5_Odhran.png

We're delighted to share Dr Bryonie Reid's evaluation of the Young Writers Group from conception in 2018 through to 2021. The evaluation discusses the writing processes, the workshops and the trial and tribulations of the groups meeting up during the Covid-19 pandemic.
"Comments are consistently encouraging and kind, and there is a strong awareness of everyone's vulnerability as writers and readers" Bryonie Read'
You can read the full report here https://kidsown.ie/wp-content/uploads/2023/04/Young_Writers_Projectv2.pdf
Upon reflection, the culmination of our Young Writers Group's five-year journey is a testament to the power of creativity and collaboration. As we mark this significant milestone, we find ourselves humbled by the growth and evolution of our young writers, and deeply appreciative of the lessons we, at Kids' Own, have gleaned from this enriching experience.
This distinguished assembly of young talents has achieved commendable feats, including the production of three publications, the crafting of captivating podcast episodes, the orchestration of numerous virtual sessions, and the cultivation of literary artistry under the mentorship of our esteemed associate writer, Mary Branley.
On the 1st of September, 2023, we convened our final workshop, attended by representatives from Kids' Own – Mary, Sarah O'Keefe, Lorna Kavanagh, and Lorna Golden – alongside our gifted young writers. This gathering afforded us the opportunity for one last literary exercise, followed by heartfelt recitations of their work. The room was filled with both joy and nostalgia, underscored by the sharing of cupcakes and goodbyes.
When we sought Mary's perspective on this group, her attempt to encapsulate five years of immersion in a few sentences echoed the profound impact this initiative has had. Her sentiments expressed a longing for the creative journey to endure, emphasizing the invaluable learning, reciprocal inspiration, and creativity that characterized this collaboration.
Sarah O'Keeffe, reflecting on her tenure with the group, conveyed a profound sense of honor. She marveled at the boundless inspiration, creativity, and camaraderie exhibited by each writer. She underscored the group's unique atmosphere, one characterised by trust, authenticity, and the forging of lasting friendships. It is her belief that this community will remain steadfast, offering unwavering support for their future literary endeavors and accomplishments.
As Kids' Own's Creative Director, Ciara emphasised the pivotal role that the Young Writers group played over the last half-decade. The group's contribution in facilitating connections, nurturing friendships, and providing a platform for genuine self-expression through creative writing is undeniable. The journey with our Young Writers has profoundly enriched Kids' Own's artistic endeavors and their approach to collaborating with young talents.
We extend our heartfelt gratitude to the Department of Foreign Affairs Reconciliation Fund for their steadfast support and funding, which has enabled this remarkable project.
For an in-depth exploration of the Young Writers' publications, we invite you to peruse their work at the following link: https://kidsown.ie/?s=young+writers