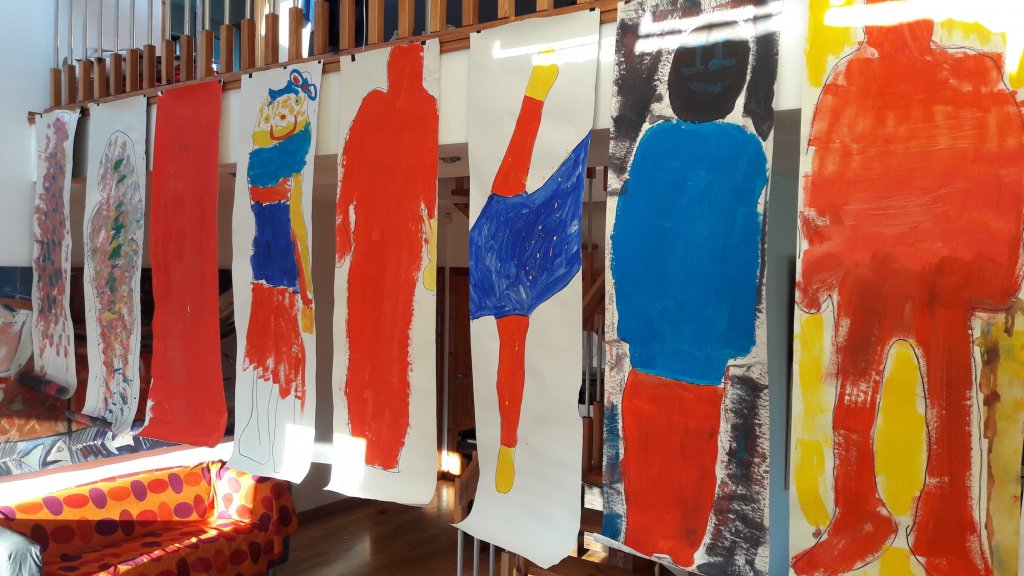 Kids' Own has begun a new book project in partnership with the National Museum of Ireland (Museum of Country Life, Castlebar), Travellers' Journey. Fifth and sixth class children from Scoil Íosa, Ballina and members of Involve youth group, Ballina are working with artist Cas McCarthy and writer Mary Branley to create artwork and writing that responds to the Travellers' Journey exhibition at the Museum of Country Life.
Following a trip to the museum to visit the Traveller's Journey exhibition, the participants are exploring multiple identities through art, discussion and writing. With writer Mary Branley, the group has been exploring how there are many aspects to each person: "some of us were born in Ireland but many of us were born in other countries like Poland, Brazil, Lithuania and Latvia. Some of us are Travellers. We have been talking about our culture, our families, our differences and also what we have in common."
Participants created big body paintings with artist Cas McCarthy, where they explored abstraction and figuration, working with the primary colours, in the exploration of the overall theme of identity. The group also created masks, little books, and drawings from observation.
"Travellers are different because they are very religious and into God a lot. It's part of staying in contact with those who passed away in your family. We do that when we pray and go to the chapel, and visit the graveyard." Bridie, 6th class
"Latvians have a great sense of humour, they are always making jokes. If a person is boring you know they are not from Latvia."
Anastasia, 4th class Involve Project