Minister for Children and Youth Affairs Katherine Zappone shared the stories of Syrian and Palestinian children living in County Mayo from our new publication A Strong Heart at her UN Security Council address on 'Children in Armed Conflict' this July.
A Strong Heart offered a space for migrant children to develop their creativity and self-expression through an artistic process, and to publish a book that would foreground and give credence to their voices, lives and experiences. Initiated and developed by Kids' Own, the project was supported by the St Stephen's Green Trust, Mayo County Council and South West Mayo Development Company.
As Minister I am particularly proud that half of the 1,883 persons accepted into Ireland under resettlement and relocation programmes are children fleeing war and conflict.

In addition Ireland is providing care for 79 children who arrived alone at our ports and airports.

All of these children, from countries experiencing conflict such as Syria, Afghanistan and Eritrea, are making Ireland their home.

They speak for themselves in a collection of stories and art created by Syrian and Palestinian children now living in Mayo in the West of Ireland.

Through the book 'A Strong Heart' they tell of the beauty of their new home-towns, the local rivers, mountains and even the world famous salmon.

They express their passion for Irish sport, their sense of fun and their hopes and dreams.

12-year old Khaled in Claremorris writes, "My Dream for the future is to be a footballer first and play for Ireland. When I'm thirty-three I will be a teacher and go back to Syria to teach English." 

Khaled and his classmates, Irish, Syrian and Palestinian, are flourishing. They are our future.
The Minister's full address can be viewed here: https://www.dcya.gov.ie/viewdoc.asp?DocID=4762
Minister Zappone also presented the publication to Louise Arbour, UN Special Representative for International Migration, following a discussion on child migrants.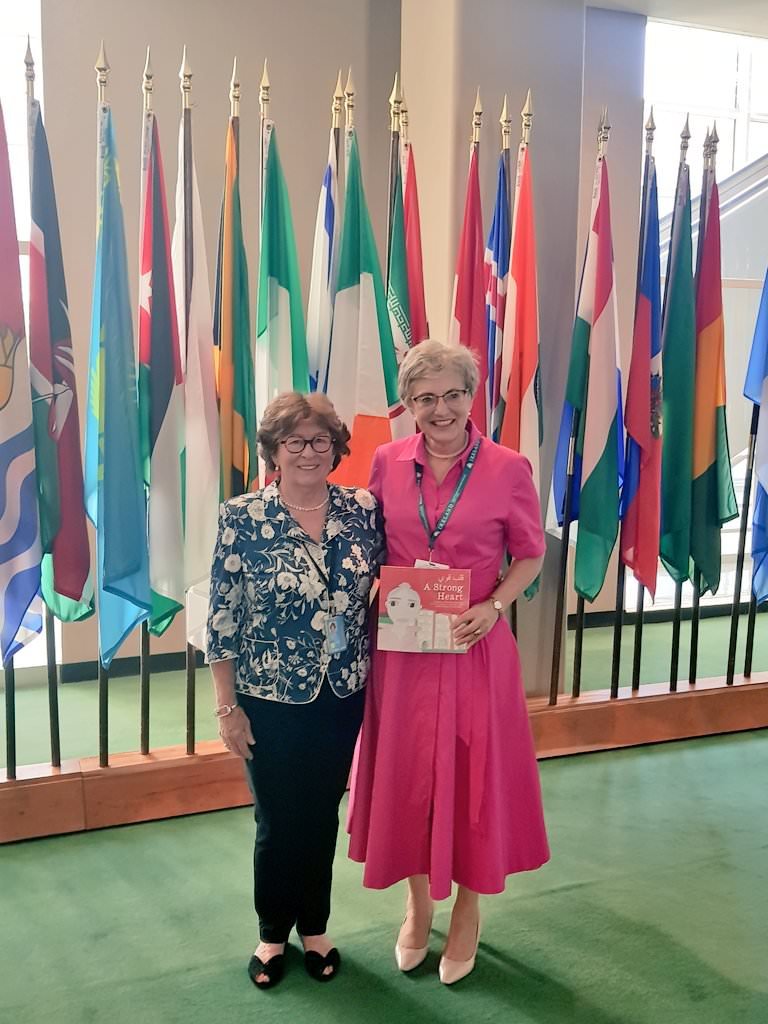 'A Strong Heart' can be purchased here: https://kidsown.ie/shop/theme/by-kids/a-strong-heart/
All proceeds support Kids' Own's bookmaking projects with children in Ireland.